To serve our customers better, we maintain probably the world's largest inventory of brake bands in our Houston, Texas warehouse. Our bands are stored "blocked" (dressed out) and ready for immediate delivery and installation on your rig—day or night. Our 24-hour shipping and delivery service keeps rig "down time" to a minimum and reduces your need for mechanic services at the rig location.
We are among the very few manufacturers that serialize their bands. We use serial numbers on both our new and rebuilt bands in order to track and record their "life cycle." Copies of MTRs, MPIs, and inspection reports will be provided upon request, which is an industry first. Digital pictures are taken as well, and these are e-mailed to customers who have this requirement.
One of our most popular specialties is the rebuilding of your old brake bands along with the installation of our blocks (lining). Send us your used brake bands and we will return them to you in like new condition. If your bands are cracked or need the bushings replaced, we will inform you of such before proceeding and let you choose the options. We prefer to install our brake blocks on our (or your) bands in order to ensure the proper torque of the brass bolts and locking nuts. Our special lock nuts are far superior to anything our competitors use. A special option we can provide upon request is the installation of our blocks using our proprietary flexible epoxy to help insure the blocks will not loosen or come off under the most severe circumstances.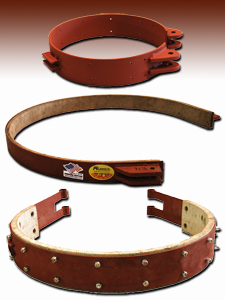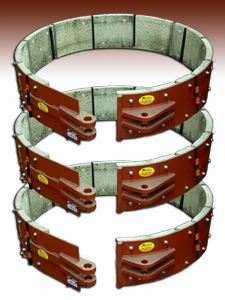 Huge Inventory – Special Designs – Less Flex Stronger & Last Longer
Rebuilding Your Band is Our Specialty – Made in the USA